Dawn Ostroff, a veteran media executive who was most recently chief content and advertising business officer at Spotify, will join Paramount Global's board of directors, the company announced Friday.
She will become an independent non-executive director pending a shareholder vote at Paramount's 2023 shareholder meeting, scheduled for May 8.
Ostroff has extensive experience in content development, cross-platform distribution and advertising. At Spotify, she was responsible for the music and audio content business as well as the platform's global advertising business. Before joining Spotify, she co-founded Condé Nast Entertainment and was its president from 2011 to 2018. Prior to that, she was president of entertainment for the CW Broadcast Network and president of United Paramount Network, a former Paramount subsidiary.
"We are pleased to welcome Dawn to the Paramount Board of Directors at such an exciting time in our development," said Shari Redstone, Paramount's CEO. "We believe her leadership, diverse expertise in content strategy and long-standing track record of transformation will be invaluable as we seek to build on the success of Paramount's global multi-platform strategy."
The company also said that Candace Beinecke and Ronald Nelson, who have served as non-executive directors of Paramount and its predecessors since 2018 and 2016, respectively, will not be up for re-election at the annual meeting.
"We are deeply grateful to Candace and Ron for their years of dedicated service and partnership," Redstone continued. "Her guidance and expertise have been instrumental in achieving key milestones and developing the company to be competitive and a leader in today's media landscape."
With the changes announced today, Paramount's board of directors will consist of 11 members, with eight members serving as independent directors.
Source: Deadline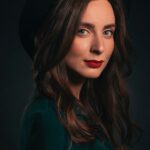 Elizabeth Cabrera is an author and journalist who writes for The Fashion Vibes. With a talent for staying up-to-date on the latest news and trends, Elizabeth is dedicated to delivering informative and engaging articles that keep readers informed on the latest developments.