AMC is confident they will have a vampire hit on their hands with the series adaptation of Anna Rice'S Interview with the vampire. The network has already renewed the series for a Season 2, ahead of the debut of Season 1, which will premiere on October 2. Hopefully, the series ends up being as good as AMC thinks!
The story of the gothic vampire follows Louis de Pointe du Lac (Jacob Anderson), Lestat de Lioncourt (Sam Reid), and that of Claudia (Bailey Bass) story of love and immortality, told to journalist Daniel Molloy (Eric Bogosian).
Dan McDermottpresident of original programming for AMC Networks and AMC Studios, in a statement: "The scope and breadth of this show, and what Mark and Rolin have offered, is simply gorgeous. They made the interview world rich and vibrant. to Anne Rice in a wonderful way and we are incredibly proud. From the construction of the set, to the scenography, to the costumes and more, no detail has been overlooked. This stellar cast delivers powerful performances that connect us emotionally to these characters and their humanity. We can't wait to share the final product of this extraordinary effort with the public in a few days and are thrilled that this story will continue. This is just the beginning of an entire universe of compelling stories and characters that capture the spirit of the fantastic. work of Anne Rice ".
Rolin Jones (Perry Mason) serves as the showrunner of the series. The late Anne Rice e his son Cristoforo Riso they are also executive producers along with Marco Johnson (Breaking Bad, better call Saul). The first season of the series will consist of eight episodes.
The company will also launch a Interview with the vampire Podcast, hosted by writer / comedian / vampire enthusiast Naomi Ekperigin, with the first preview episode available today. Each week, Ekperigin will be joined by the actors and writers behind the show.
Interview with the vampire will debut October 2 on AMC and AMC +.
Source: Deadline
by Joey Paur
Source: Geek Tyrant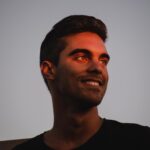 Errol Villanueva is an author and lifestyle journalist who writes for The Fashion Vibes. With a passion for exploring the latest trends in fashion, food, travel, and wellness, Errol's articles are a must-read for anyone interested in living a stylish and fulfilling life.