Filming on "Daredevil: Born Again" began just over a week ago and fans are so excited that they've flocked to New York City to witness the filming with their own eyes. Now, the first look at Charlie Cox as Matt Murdock on the set of the Disney+ series has been leaked, revealing some interesting details about it.
Thanks to Twitter user @setfiendr37965, the first leaked photos of 'Daredevil: Born Again', where Charlie Cox can be seen on the film set, dressed as Matt Murdick. Details are currently unknown on which scene it is, but the images reveal that he will wear the same lawyer's wardrobe we saw in the Netflix series.
THE Pictures of "Daredevil: Born Again" come from the set located in the Supreme Court of the State of New York, in Manhattan, where most land lawyers spend most of their day. It should be remembered that the recordings of this reboot for Disney + will last until next December.
Fans who came to the day of the recording took a photo with Charlie Cox during break from filming 'Daredevil: Born Again'. While there aren't any other exciting details about the photos, fans of the character are happy to see Cox back in his Matt Murdock role, hoping to see him in the Man Without Fear costume soon.
It may interest you: Daredevil and Moon Knight are confirmed for Avengers 5
It may interest you: The Punisher returns to Marvel in 'Daredevil: Born Again'
Daredevil may be getting a new suit for the series
In one of the fan photos taken with Charlie Cox, one of them shows the actor wearing a baggy jacket that covers most of his body. And though he can be seen wearing jeans underneath him, some believe that underneath the coat he could be wearing a new Daredevil costume for the reboot that will premiere on Disney+.
The "Daredevil: Born Again" franchise has also been plagued with rumors, from the returns of Jon Bernthal and Alaqua Cox as the Punisher and Echo, respectively, to cameos as Jessica Jones or the White Tiger. But one thing seems certain, and that is that Deborah Ann Woll and Elden Henson will not be reprising their roles as Karen Page and Foggy Nelson.
Recordings of "Daredevil: Born Again" will run through the end of the year and will become UCM's longest running production to date. The reboot with Charlie Cox and Vincent D'Onofrio maintains its premiere date scheduled for mid-2024, only the confirmation of the official day is missing.
Source: Nacion Flix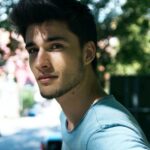 Lloyd Grunewald is an author at "The Fashion Vibes". He is a talented writer who focuses on bringing the latest entertainment-related news to his readers. With a deep understanding of the entertainment industry and a passion for writing, Lloyd delivers engaging articles that keep his readers informed and entertained.