Grief is not handled the same way for everyone, and these orphaned sisters demonstrate this with humor and kindness.
We can suffer and cry. We can cry and laugh. We can also do everything at the same time, feel everything, and that's fine. If ever there was a time when the judgment of others is as interesting as a curly hair, this is it.
On TikTok, two sisters, who lost their mother a few months earlier, publish a very touching and strangely funny video, in which they confess, in front of the camera.
Mourning and laughing, the possible combination
In this video, titled " confessions to our late mother » the two young women try to confess, between one laugh and another, all the little misfortunes that have happened to them since their mother died.
They explain, hilariously, that they found out they had to pay their mother's taxes, even though her mother is dead, then one of the sisters admits that she had gastroenteritis which caused her to miss her other sister's baby shower, and the second girl apologizes to her mother for not crying at the funeral. It's not that she wasn't sad, it's just that she was so pregnant that she was afraid of vomiting at the time.
This video, where the two young women laugh so much at their adventures and mistakes, is extremely refreshing. It shows us two women who remained children who admit their stupidities in front of her mother, making her memory alive and incredibly sweet.
This video is full of life, and the comments that accompany it make you laugh as well as cry: one user explains in particular that for his part he did not cry at his mother's funeral because he had accidentally taken his brother's anxiolytics, instead of his own treatment for your thyroid problems.
Another admits that her mother is also dead and that she should tell her that one of her creditors is suing her. Finally, other users thank these two young women for this refreshing video which is very good for those who are experiencing bereavement and who are mired in grief.
Laughter remains a fabulous remedy.
---
Listen to Laisse-moi kiffer, Madmoizelle's cultural advice podcast.
Source: Madmoizelle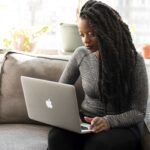 Mary Crossley is an author at "The Fashion Vibes". She is a seasoned journalist who is dedicated to delivering the latest news to her readers. With a keen sense of what's important, Mary covers a wide range of topics, from politics to lifestyle and everything in between.