Will fellow Disney heroines be your new sleep paralysis? Does Prince Eric have the charisma of a male character from the Bridgerton Chronicles? I mean, should we see Rob Marshall's live-action adaptation of The Little Mermaid?
Disney continues the series of adaptations in live of his most cult cartoons. Entrusted with the lead role to actress Halle Bailey, the film paid the price for months of racist controversy, the fachosphere showed a sudden interest in the level of sunshine on the seabed. Because obviously, when it comes to mermaids, the science is in order.
The heroine who already has a doll in her likeness (while Kalindi, not yet) is brought to the screen by the famous Rob Marshall to whom we owe the cult version of the musical Chicago and the recent adaptation of Mary Poppins with Emily Blunt. Adaptation that I describe as a "huge hit", like an old soul present before the year 2000 bug while its In the wood plunged world cinema into an existential crisis. Well.
Our film reporter Maya gave you her opinion here The little Mermaid. Here is a podcast, that of Kalindi, former runner-up and future runner-up of the Kingdom of "Swag" (I was born before 2000, I warned you).
The only opinion that matters
What if the movie you were about to see tonight was dung? Every week, our national Kalindi shoots ambulances and offers you, not interviews, not portraits, but her opinion (and that's already not bad).
The only opinion that matters is on the way for an explosive Season 2 on all platforms! Half crit and half bar pillar, that's all a film journalist who should give you a hard timebecause she likes popcorn salty.
Subscribe to The only opinion that matters
On Apple Podcasts • On Deezer • On Spotify
The only opinion that matters is a Madmoizelle podcast written and presented by Kalindi Ramphul. Production, music and editing: Mathis Grosos. Chief editor: Marie-Stéphanie Servos.
Source: Madmoizelle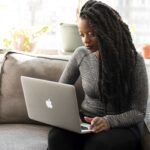 Mary Crossley is an author at "The Fashion Vibes". She is a seasoned journalist who is dedicated to delivering the latest news to her readers. With a keen sense of what's important, Mary covers a wide range of topics, from politics to lifestyle and everything in between.