If the Rock & Roll Hall of Fame doesn't find a way to be more inclusive, it could "go to hell in a wallet," according to rocker Courtney Love.
While there is an annual debate about nominees and invocations, who gets nominated and inducted is anything but silly. The venue has a real economic impact on the artists chosen, Love claimed in a scathing opinion piece in The Guardian.
Love said the hall's voting process didn't do enough to honor some important figures in music. "So few women are inducted into the Rock Hall that the nominating committee collapsed. With so few black artists, so few black women being recorded, the voting process needs to be reviewed."
She added: "Shame on HBO for supporting this hoax."
While Love admitted there were more female nominees this year than ever before, the hall still had icons like Kate Bush waiting for an opportunity. Artists can be nominated 25 years after the release of their first record. Bush was eligible from 2004, but only made it to the election in 2018 and was still not inducted.
In fact, only 8% of Rock & Roll Hall of Famers are women. There is a reason, Love realized.
"Of the 31 people on the nomination committee, only nine are women. According to music historian Evelyn McDonnell, 90% of Rock Hall voters, including musicians and the industry elite, are male."
Black artists fared no better. Chaka Khan's talent has been praised by Love, but even this dynamic force has yet to be recognized. "In 2012, the Beastie Boys were introduced to the most black hip-hop artists they learned to rhyme with," Love noted.
The reason why introduction is important is that the hall shows grandeur and increases income opportunities. Performance guarantees, the quality of re-release campaigns and other benefits are increasing.
"These opportunities are life-changing — the difference between touring aftermarket casinos opening for a second-rate comedian or headlining prestigious festivals," Love wrote. An induction into the Rock Hall "has a direct impact on the income they can earn. It is one of the few ways, and certainly the most visible, for these women to honor their legacy and influence with immediate material impact."
She concluded: "If the Rock Hall isn't willing to look at how it replicates the violence of structural racism and sexism that artists face in the music industry, if they can't adequately celebrate visionary women artists who are creating, innovating, revolutionizing. and contributed to popular music – well then let it go to hell in a wallet.
Source: Deadline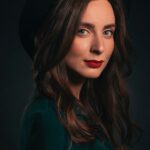 Elizabeth Cabrera is an author and journalist who writes for The Fashion Vibes. With a talent for staying up-to-date on the latest news and trends, Elizabeth is dedicated to delivering informative and engaging articles that keep readers informed on the latest developments.