If a warm sweater has become your indispensable companion in the evenings and scented candles are no longer idle, it means autumn has really begun. And for our skin, this can only mean one thing – it's time to show yourself a capricious child. In autumn, after the summer season, we are faced with all kinds of problems, from dehydration of the epidermis and lack of nutrition to hyperpigmentation (hello to everyone who ignores SPF cream on the beach) and the appearance of new wrinkles. .
In autumn, the skin requires more attention, so our main task is to provide it with the necessary care and avoid seasonally common problems. This is where multifunctional cosmetics come into play; They act in several directions simultaneously and meet different skin needs.
The D'Alba brand has almost all multi-purpose products due to the ingredient in its formula, white truffle from Alba, Italy (the truffle capital of the world, by the way). It is not by chance that this ingredient was chosen as the main component of all products, but due to its rich composition.
White truffle extract in cosmetics helps effectively combat age-related changes (wrinkles and pigmentation), repair damaged skin, nourish it and restore elasticity. That's why every d'Alba product has a number of features already listed. The effect will be complex and even more pronounced if you combine the products with each other.
While Indian summers give us a head start ahead of cold days, it's time to rethink your autumn skincare and include everything you need in it.

The brand has managed to personalize even the classic moisturizer. There are two basic products in the jar; serum and cream. But they can be mixed together in different proportions, focusing on the skin's here and now needs. The ratio of serum and cream for oily type is 2:1, for normal type it is 1:1 and for dry type it is 1:2.
This way you can independently control the degree of saturation of the cream and change it depending on the time of day, day of the week or season.
The purpose of the two-stage cream is to intensively nourish the skin, increase its elasticity and replenish lost moisture. The formula contains white truffle extract, hyaluronic acid, ceramides and collagen extract – the main "autumn" ingredients that return the skin to normal.
---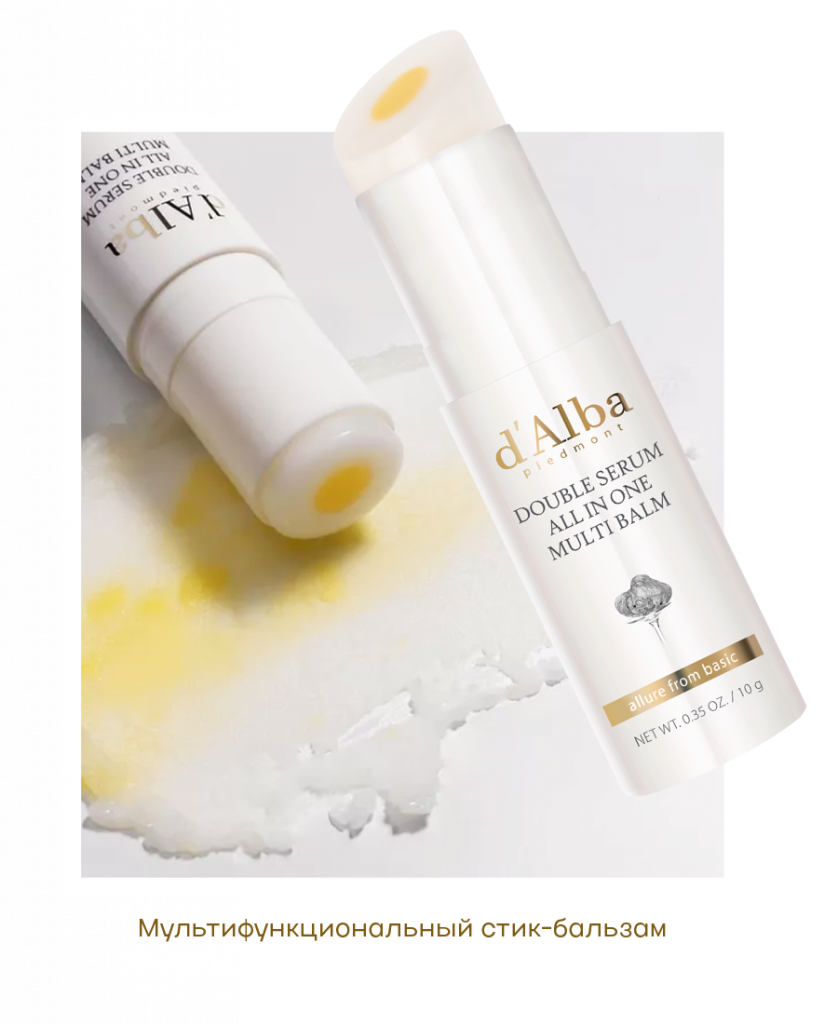 The appearance of new wrinkles on the skin is another problem that many people face after three months of sun exposure. At this time, the skin needs not only deep moisture but also antioxidants. Secondly, it will neutralize the effects of free radicals (the main culprits of premature aging) and repair the damage they have already caused.
Stick balm acts in several directions at once – Thanks to vitamins C and E, it moisturizes the skin, equalizes its tone and smoothes wrinkles.
The stick format of the product is a special love. It is convenient to apply it locally to problem areas (for example, the skin around the eyelids, nasolabial folds or neck) to smooth wrinkles.
---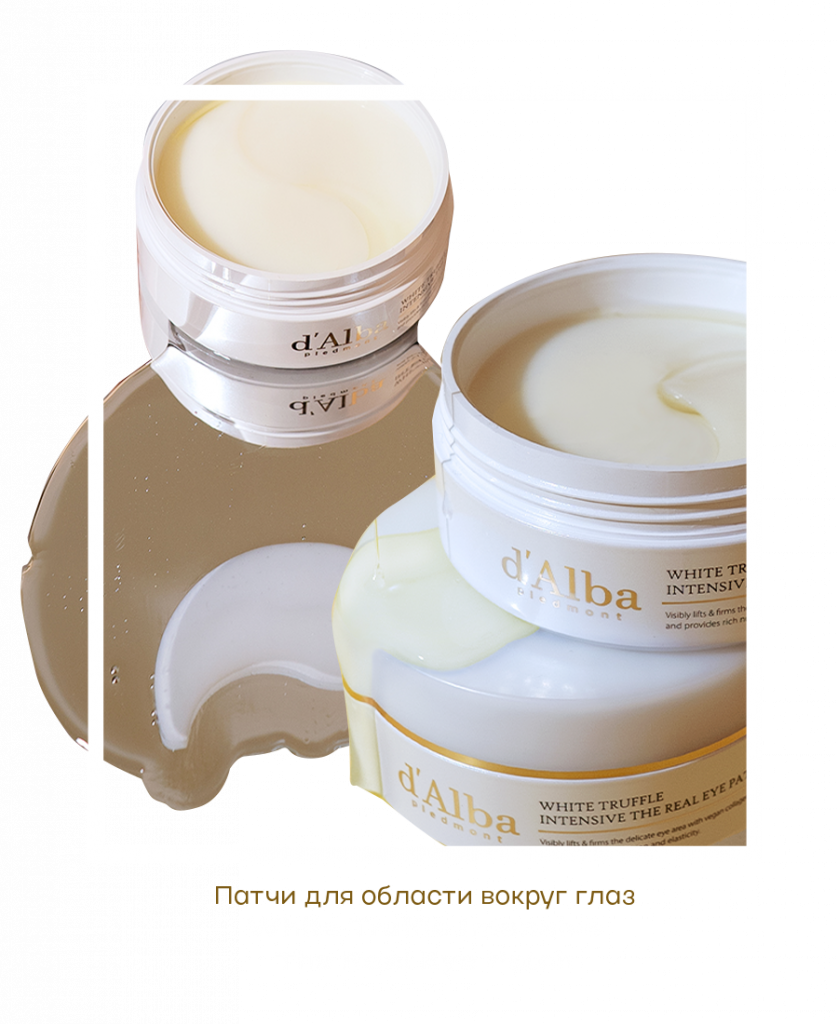 We were certainly not exaggerating when we talked about the versatility of every d'Alba product. Even ordinary patches can't be used just for the eye area. Their formulas contain vegan collagen, hyaluronic acid and panthenol, which help repair skin and prevent new wrinkles from appearing.
Meanwhile, thanks to this innovative formula, the patches become transparent as the substances are absorbed. This way you'll know exactly when you need to take them off.
Patches can be applied to problem areas that require additional moisturizing, such as the eyebrow area, nasolabial folds, Venus rings on the neck or hands.
---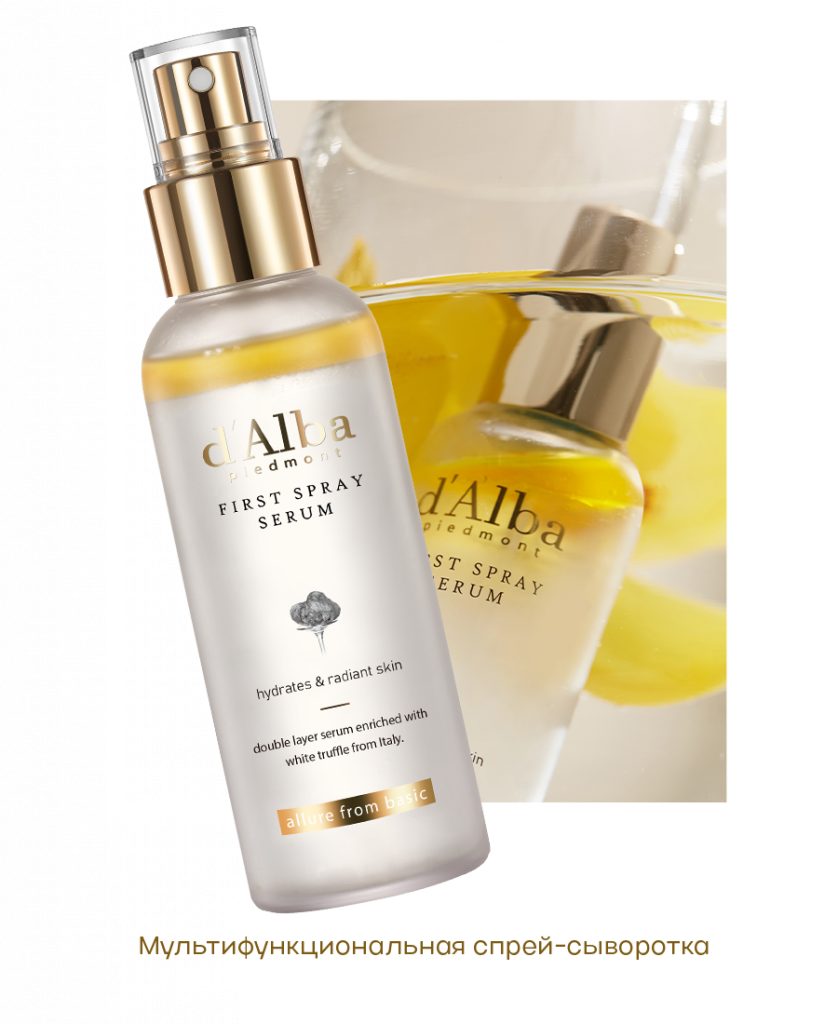 And of course, we couldn't miss the brand's best-selling product, the multifunctional spray serum. It has long become an SOS tool that is always at hand.
No product can give the effect of glowing and moisturized skin as quickly as a serum spray. Just two steps – shake, spray and you're done, the skin already looks healthy and rested.
The most convenient thing is that the product can be used even over makeup – this is especially useful when you have grandiose plans for the evening, and in the morning your makeup already looks "tired". But that's not all; Serum can easily replace body cream, which we often forget to care for. In the autumn you need to replenish moisture in the epidermal cells and prepare for the heating season.
---
Therefore, autumn facial skin care is characterized by increased attention to its needs. Moisturization and nutrition must come first because that is exactly what the epidermis is lacking at the moment. In order not to multiply cosmetics on your shelf and at the same time meet all the necessary needs, we recommend choosing multifunctional products that will work comprehensively.
Source: People Talk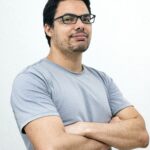 I'm Roger Gritton, and I've been writing for the The Fashion Vibes for over 5 years now. My specialty is beauty news; I'm passionate about covering the latest trends, products, and innovations in the industry. In my time there, I've become known as an authority on all things beauty-related.
I love discovering new experts to interview, researching up-and-coming ingredients and techniques that are making their way onto our beauty shelves and highlighting people who are making a difference in the world of cosmetics. My work has appeared not only on The Fashion Vibes, but also several other publications including the New York Times Magazine, Allure Magazine and Refinery29.