CBS talent relations director Ian Metrose will leave at the end of March, the company has confirmed.
"Ian has decided to leave CBS this month at the end of his contract," the company said in a statement. "We thank him for his 20 years of leadership of network and studio events and wish him well in his next role."
Metrose is leaving as SVP, Talent Relations & Special Events, CBS Communications, reporting to Chris Ender, EVP Communications, CBS Corp.
He was involved in efforts to derail an open investigation into allegations of sexual assault against former CBS CEO Moonves by an LAPD captain, as outlined in a report released in November by New York Attorney General Letitia James, was released.
Metrose joined CBS in December 2003 as director of talent relations and special events. Before joining CBS, he was director of special events and promotions at Fox Searchlight.
Source: Deadline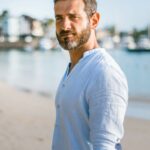 Joseph Fearn is an entertainment and television aficionado who writes for The Fashion Vibes. With a keen eye for what's hot in the world of TV, Joseph keeps his readers informed about the latest trends and must-see shows.