Channel + show Cut Tonight! A zombie movie parody by Michel Hazanavicius…
In a disused building, a film crew has to make a quick little zombie movie… but it's not very well done! There's no fighting spirit on set, except for the director in charge. Players are afraid of turnips, and mechanics play with the D system. Everything turns to peanuts when the true undead appear…
"Cut! is a high-concept movie where the audience starts by wondering what they're watching and ends up telling themselves that it's not only funny but also clever, I hope so" », says its director, Michel Hazanavicius. It's even downright awesome! The first 32 minutes, filmed in a completely insane and sequenced take, have something to throw off the balance. Strange things happen off-screen when players play like slippers. Especially the appearance of real zombies! Did you say perched? Be patient and everything will be perfectly fine… In this remake of a gruesome Japanese Z-series (Don't cut!), the Oscar-winning filmmaker for The Artist draws a hilarious comedy with a beautiful tribute to all the craftsmen. Whether your art is behind the scenes or behind the scenes. For Hazanavicius: "The collective is stronger than the addition of individuals, and the human adventure is sometimes more interesting or more beautiful than the object we make." Funny, smart and generous.
To cut! Tuesday, January 24 at 21:10 on Canal+
JULIAN BARCILON
Source: Programme Television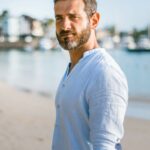 Joseph Fearn is an entertainment and television aficionado who writes for The Fashion Vibes. With a keen eye for what's hot in the world of TV, Joseph keeps his readers informed about the latest trends and must-see shows.