'Black Panther: Wakanda Forever' continues to conquer theaters nearly two weeks after its premiere. In Spain it continues to lead the box office and, worldwide, has already managed to collect around 561 million dollars. This undeniable success prompted its director and co-writer, Ryan Coogler, to write an emotional letter of thanks to those fans who came to see the film in theatres.
A message from Ryan Coogler pic.twitter.com/EqxWDVUmsD

? Marvel Studios (@Marvel Studios) November 24, 2022
This letter was published on Twitter through the official profile of Marvel Studios. In it, Coogler thanks all the fans who came to enjoy his film in theaters, as well as the support received by "Black Panther: Wakanda Forever". "Gratitude. That's the only word I can think of for your support of our work on the movie 'Black Panther: Wakanda Forever.' I'm full of it. Thank you. Thanks to everyone who bought tickets in advance and camped out on opening weekend. Thank you to those who carried your families, young and old on their shoulders. To you who have organized youth screenings, who have reserved the halls for communities and friends. To all of you who have seen it on multiple occasions and encouraged others to do so."
The director also thanks the audience for their patience with the film, given its long running time and other aspects that could have disconnected viewers, such as the different range of languages ​​or some topics covered in the feature film. "Our movie is a good two and a half hours long, so thanks for sticking by without any breaks for the bathroom. Also, we've included 6 languages ​​so thanks for watching with subtitles. And it's about the inescapable human emotion of pain, thank you for being open to the emotional journey of this film."
In the end, Coogler wrote that he also made this film to generate discussion and talk about it, as well as to make people feel represented. "We did something to honor our friend, who was a giant in our industry, and we did something to enjoy in theaters with friends, family and strangers. Something to mention and talk about. To discuss. Something to make people feel seen, both physically and emotionally".
Future projects
To conclude his moving letter to fans, Coogler wanted to remind that none of this would have been possible without the public, and that he is already thinking about other projects for the future, therefore, we will most likely see him take on another film for Marvel. Maybe "Black Panther 3"? It is very likely but, at the moment, everything is speculation and there is nothing confirmed beyond our wish. "This outlet wouldn't exist without the audience and I thank you for giving me this career focus and emotional outlet. I'm already planning on bringing you more stories in the future. Sincerely, Ryan Coogler," Thus concluded his letter the director of 'Black Panther: Wakanda Forever', which we hope to see in a third part of this saga of the Marvel Cinematic Universe.
Source: E Cartelera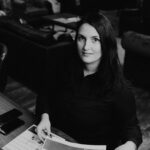 Bernice Bonaparte is an author and entertainment journalist who writes for The Fashion Vibes. With a passion for pop culture and a talent for staying up-to-date on the latest entertainment news, Bernice has become a trusted source for information on the entertainment industry.