On Tuesday, Priyanka Chopra shared a cute picture of her almost one-year-old daughter, Malti.
The 10-month-old wore a pink knit hat that covered her eyes. This is the first time the private couple has shown a glimpse of her face.
The Quantico star's only caption was "I mean…" as she added two heart-face emojis.
Cutie: Priyanka Chopra caught a glimpse of 11-month-old daughter Malti's face on Tuesday
Reis changed: Earlier this month, the lovebirds were seen holding the child, but with her entire face covered in a red heart emoji
The child, whose father is singer Nick Jonas, was born via surrogate on January 15, 2022.
The baby looked like she was sleeping when the hat fell low on her nose. She was strapped into a car seat while dressed appropriately for the fall shows in a sweater over a T-shirt.
The photo was posted on Priyanka's Insta Stories.
Jonas said more than a week ago that he has a new outlook on life after traveling with daughter Malti.
"I think part of it, you know, is just the amount of stuff you need. It's pretty fun," he told Travel + Leisure.
"But also the wonder of looking for places you've been a million times, but seeing them with different eyes, right? It really is something special. It was an incredible experience for us," said the new father.
Together again: Priyanka previously took to Instagram after reuniting with Malti and Jonas following a recent solo trip to her native India
Now that Jonas has his wife and baby at home, his health is more important than ever.
Also in November, Chopra and Malti arrived ready for Christmas in snaps shared on social media.
The actress used Instagram Stories to share pictures of herself with Malti to her approximately 83.3 million followers.
Priyanka, who recently returned from a solo trip to her native India, was delighted to take a selfie as she pointed to a sparkling, decorated Christmas tree at her home.
Plus: Chopra appeared all set for Christmas in snaps shared on social media earlier this month
Roaring fireplace: The 40-year-old actress immediately held Malti on her lap in front of a roaring fireplace and captioned it: "It's starting to look like…"
"It's here!" she wrote, along with a Christmas tree emoji and other fun symbols.
"It's starting to look a bit like…" Priyanka captioned it.
Mother and daughter were shown in the photo from behind with Priyanka's hair in a bun while accessorizing it with large hoop earrings.
Newcomer: In July, Priyanka shared a photo on Instagram of her and Nick Malti celebrating their six-month anniversary
Source link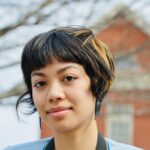 Ashley Root is an author and celebrity journalist who writes for The Fashion Vibes. With a keen eye for all things celebrity, Ashley is always up-to-date on the latest gossip and trends in the world of entertainment.