Ciryl Gane, who has not fought since September 3 at UFC Paris due to a hand injury, has more to say about his return to the octagon…
The return for Ciryl Gane is drawing near. On September 3, at UFC Paris, the French won his heavyweight fight against Australian Tai Tuivasa, firing 16,000 people in the Accor Arena. 40 seconds after the end of the third round, the person nicknamed "The Good Boy" chained his opponent with several heavy blows, resulting in a technical knockout, forcing the referee to intervene to put an end to the fight.
Ciryl Gane did not come out of this fight unscathed. As a matter of fact, the 32-year-old actor later announced on his Twitch channel that his hand was broken: "It will require a major operation. Postoperative immobilization for 2 months and rest for 3 months. 5 months later I could steal a bag again. The bone is completely gone. Phalanx left behind. You should know that 4 weeks before the fight, I also broke my rib. But we decided to fight anyway."
However, away from the cage, Ciryl Gane seems to be slowly finding the beast's hair. This Tuesday, November 22nd, the Frenchman spoke about his future return to the UFC in a message posted on his Twitter account: "March looks good for the launch of StrapSeason. Ngannou, Jones, Blaydes, I don't care. I take everyone, anytime, anywhere."A message that has the virtue of being clear in well-chosen words. In British boxing, "strap season" means it's time for a fighter to go looking for a belt. We'll see who gets his way. For now, Francis Ngannou of Cameroon remains the reigning champion in the heavyweight category in the UFC.
Sounds great for the start of March #StrapSeason

Ngannou, Jones, Blaydes, I don't care: anytime, anyone, anywhere. pic.twitter.com/FBn3vqbYwX

— Kiril Gane (@ciryl_gane) 22 November 2022
NUMBER
Source: Programme Television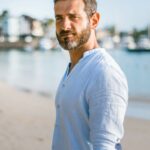 Joseph Fearn is an entertainment and television aficionado who writes for The Fashion Vibes. With a keen eye for what's hot in the world of TV, Joseph keeps his readers informed about the latest trends and must-see shows.