Alexandra Lamy gave a secret to Télé 7 jours on the occasion of the release of her first cut as a director, "Touchées"…
It airs on Thursday, September 22, 2022 at 21:10 on TF1. Affected. A resolute fiction directed by Alexandra Lamy with her friend Mélanie Doutey. The latter plays Lucie, the victim of a violent husband who finds help from a women's association. In contact with her sisters, the young mother reconstructs herself psychologically. "I remember being so touched when I called Mélanie to tell her that I wanted her to be Lucie."entrusts Alexandra Lamy to Télé 7 jours. "Our tearful phone call must have been ridiculous! Inevitably, tears came back from the first "Action". I chose her because she is a great actress who is not afraid to "harm herself" in the image. I didn't give him a physical gift at the beginning of the movie. No chance to emerge as a beauty fairy!
We also find it in the cast. Affected Chloé Jouannet, Alexandra Lamy's own daughter, born from her relationship with Claudia Tagbo and comedian Thomas Jouannet. A particularly moving experience for the stara boy a girl : "As soon as I wrote it, I thought of Chloé for the role of Tamara. I knew the character could express all his explosive anger."
Alexandra Lamy"usually bluff"During the filming with the talent of her character daughter"far away" director's expectations. "I was the first spectator behind the camera: I've been impressed more than once. Now it's not Chloé that's in front of me, it's an actress! he comes to the conclusion.
Review of the Télé 7 diaries :
With this adaptation of Quentin Zuttion's eponymous graphic novel, Alexandra Lamy deftly stabs violence against women and makes her directorial debut. Far from comedy, he turns his back on his comfort zone and hits the mark with a beautiful tale of resilience and brotherhood that brings optimism to all victims.
Interview with Julien Barcilon
Source: Programme Television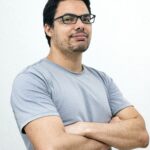 I'm Roger Gritton, and I've been writing for the The Fashion Vibes for over 5 years now. My specialty is beauty news; I'm passionate about covering the latest trends, products, and innovations in the industry. In my time there, I've become known as an authority on all things beauty-related.
I love discovering new experts to interview, researching up-and-coming ingredients and techniques that are making their way onto our beauty shelves and highlighting people who are making a difference in the world of cosmetics. My work has appeared not only on The Fashion Vibes, but also several other publications including the New York Times Magazine, Allure Magazine and Refinery29.