The schoolboy is the protagonist of this feature film released in 2011, where he crosses paths with a legendary rocker. Moving from comics to movies was a very easy "pô" adventure. The words of its creator, Zep.
3D rendering
"It was a very long job. For a four-second shot, you need thirty preparatory drawings, then a hundred more advanced drawings, coloring, special effects… For example, I had to draw Titeuf in new postures: how are you he walks, runs, breathes Does it move his eyelids? It was necessary to have Titeuf as an actor and reflect his feelings. I know what he was thinking, what was going on inside him, but turning it into acting was another story. This is also the case of his friends Manu, Hugo, Nadia…, his family. I was surrounded by very experienced designers, some of whom had worked on Disney movies. They have a science of computer animation that I don't have."
bite Johnny
"I was working on a sequence in which Titeuf meets a fictional character: the perfect hero to Titeuf is the adult, someone with certainties, someone who explains life to him, a kind of solitary adventurer who has come back from everything. I thought it would be good to get an idea through a song. I immediately thought of Johnny Hallyday. It's great to draw the leather cowboy look. He immediately accepted. On the other hand, it took a long time to happen given its schedule. During his last tour, on his birthday, June 15, 2009, he came to Paris to record his own dialogue and the song (Written and composed by Zep's friend Jean-Jacques Goldman on the recommendation of The Road is your only friend). »
an untold story
"I wanted to find the double level I love in the albums in the script: Titeuf's life as a child and the adult world around him, which he tries to understand without really succeeding. Here, as the shadow of his parents' separation falls on him, he wants to be invited to the birthday party of Nadia, whom he fell in love with at all costs. It concerns me because when I write these stories, I feel both Titeuf and the father I am in real life. »
childhood memories
"Titeuf was born on the pages of a diary where I drew my school memories. I was writing this boy's story in the first person, as if it were today. Since I was too lazy to scratch her hair, I styled her with a lock. Its egg-shaped head inspired me to name it, Titeuf. I wanted a realistic tone, real language, especially undiluted. I was rejected everywhere. I published a few pages in a Geneva fanzine that Glénat's editor, Jean-Claude Camano, had seen and liked. It all started in 1992 with the first album in the series: God, sex and braces. »
Titeuf movie will be on Gulli on Tuesday, June 6th at 21:05
COMMENTS COLLECTED BY ISABELLE MAGNIER
Source: Programme Television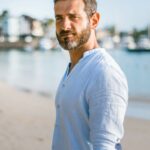 Joseph Fearn is an entertainment and television aficionado who writes for The Fashion Vibes. With a keen eye for what's hot in the world of TV, Joseph keeps his readers informed about the latest trends and must-see shows.