Developing in the TFX program "Mamans & Célèbres", Hillary also reveals her daily life through her Instagram account, which is followed by thousands of people. Blooming with Giovanni, her husband and two sons, the reality TV candidate currently living in Dubai has announced great news.
We discovered Hillary's first steps on TV and she continues to thrive there as a mother of two with her husband. The small tribe now living in Dubai has agreed to bring the TFX cameras in their privacy so we can explore the Bonamys' adventures. Moms and Celebrities. The young woman, who is very close to her subscribers on Instagram, talks to them about everything and almost unfiltered. She talks about her health struggles, her routine as a mom, as well as her beautiful projects, and there's one she's dying to announce.
"Nice project?"
Insisting that she truly loves her life in Dubai, Hillary has decided to move elsewhere with her family. Would you consider returning to France? No! The place where the couple wants to try the adventure is the United States. He relied on a snapshot he posted on Instagram: "We announced our project for next summer.. Trying out the experience of living in Los Angeles for 1 year with family. Nice project?". Curious, her subscribers left countless comments on her post. While some wondered about obtaining a residence permit from across the Atlantic, others argued that he would no longer have the opportunity to live in Dubai, which he has since denied. "I want to know how you got the green card? To be able to live there without working, finally get a real job at a company?", for example a user wrote. And one more to add: "We would like to try this experience too, if you can make an article or a reel that interests me in your steps". But also : "You've been trying for a long time and you can afford it, so you're right! Take all the advantages and you'll be better off following you to Dubai!" and "You will be able to improve your English further, in three months you will be bilingual, that's your problem".
The young woman has not yet given details about the conditions of this move, which will serve as a test, but there is no doubt that she will inform her 2 million subscribers soon! Already in 2018, Hillary had tried the adventure in Los Angeles. At that time she confessed: "I have something to tell you. I'm taking action (…) I'm making a mess at home. I'm ashamed to share this with you. I'm going to live in Los Angeles. In less than a month you'll be able to follow me because I'll still be very, very active on the networks, Los Angeles" I will be in (…) I will live in Los Angeles to learn English. I am leaving on September 8, I am very happy (…) I will leave at least 3-4 months later and I will let you know. We are going freestyle (…) I just want to develop and grow ".
Check out this post on Instagram
Kahina Boudjdjdj
Source: Programme Television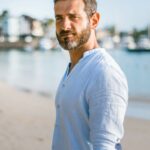 Joseph Fearn is an entertainment and television aficionado who writes for The Fashion Vibes. With a keen eye for what's hot in the world of TV, Joseph keeps his readers informed about the latest trends and must-see shows.