The singer makes a comeback and takes her seat in one of the famous red armchairs for her and our delight. Report.
After five years of absence, you integrate a new trainer configuration. How is the atmosphere between you?
Zazi: Beautiful, I like it. We laugh often, it makes a little, a lot of room… but always with kindness. A little generation gap with Bigflo and Oli, and it's hilarious. They talk to me about Twitch, I think they talk to me about Twist! (Laughs). On the contrary, sometimes I also teach them something. For example, when a Talent took over one of my books, "Wow, this is so well written! I replied: "Thank you! kindly. Why are you thanking me? And I say: "Bah, because this is my song. (Laughs)
How do you evaluate the Talents that make up this season?
With the advent of programs like The Voice, candidates became more and more complete. Young people who played violin and judo before… Now they have added singing lessons to their activities. I feel like this year's Talents are beautiful in the noblest sense of the word and they have a real acumen for the business. There's something tender and sweet about them. Maybe we can see the post-Covid effect there too, which means that people now really enjoy gathering.
The show features more French songs this year…
Indeed, and this is good news. Talent sometimes hides behind some English songs. French makes coaching more interesting and touching. I love it because we take them to areas where they can be more technical and a little less daring in interpretation. When they're a little off the ground in their comments, we can work harder with them to make sense of what they're saying.
The Voice: Every Saturday at 21:10 on TF1
INTERVIEW S. İBRİ
Source: Programme Television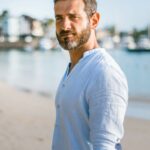 Joseph Fearn is an entertainment and television aficionado who writes for The Fashion Vibes. With a keen eye for what's hot in the world of TV, Joseph keeps his readers informed about the latest trends and must-see shows.