Alexandre Brasseur, star of Tomorrow Ours (TF1), takes on the role of a police officer stuck in his past. Interview with the actor.
You play Captain Antoine Le Mezec. With such a name, we know where we put our feet…
Alexander Brewer: We are certainly not in Flanders! Sometimes Murders à… is based on the myths and legends of that place. Here in the village of Pont-Aven in Finistère, it's one of the first times the collection has focused more on the heritage aspect of a site. Especially in the circle of the painting school of which Paul Gauguin was the leader.
Antoine Le Mezec will find himself in the art world, a universe you know very well…
My maternal grandfather, like my mother, has always been very artistic. Hence my interest in this field. Wherever I go, in France or abroad, I find museums, exhibitions and galleries to visit. I am really passionate about sculpture and painting. I also bought another painting yesterday.
Your character is not more sensitive than that… What did you understand about Antoine when you discovered the script?
I immediately felt that something was not so clear in his past. After the death of a painter, he returns to the country of his childhood and first case, where it ended in an accident. This woman was none other than Marion's mother (Astrid Roos, editor's note), with whom she is currently investigating the murder of a gallery owner. I get the impression that he has not resentment but a wound, a kind of guilt in him, I played it to make it ambiguous.
The first sentence Antoine said was, "Excuse me, but you look a lot like your mother." In life, we must have told you often that you resembled your father, Claude…
Regularly. Honestly, I think finding a piece of Claude in me makes people happy. For some there is also a little Pierre (paternal grandfather). Unfortunately, they are no longer numerous.
Is this TV movie also a way to show that you're not a prisoner of the role of Alex in Tomorrow Belongs to Us (TF1)?
I want people to hear – especially in the business world – that the reason you can't do anything else isn't because you're shooting a daily drama. I had the chance to play at the Festival d'Avignon, shoot one season of the Bureau des legendes (Canal+), several TV films, among which I am particularly proud of Emma Bovary (France 2)… two great theatrical projects. It's all just a matter of organization.
By the way, how does Alex's future in Tomorrow belong to us?
Together with the writers, we take the character a little more towards commitment. Especially in the relationship he discovered at the oyster farm he recently bought with his wife, Chloé (Ingrid Chauvin). This will allow him to deal with people in complex situations and put his humanity to good use. Thanks to this experience, between now and summer, Delcourts will be a breath of fresh air, and that pleases me.
Murders in Pont-Aven, France 3 on Sunday, March 18 at 21:10
INTERVIEW FREDERIC LOHÉZIC
Source: Programme Television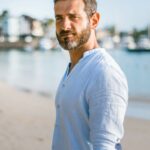 Joseph Fearn is an entertainment and television aficionado who writes for The Fashion Vibes. With a keen eye for what's hot in the world of TV, Joseph keeps his readers informed about the latest trends and must-see shows.