I agree, it's not really fair that everyone knows about good restaurants, but only a few know about the chefs who cook there and create the menu. We at The Fashion Vibes decided to rectify this situation and created the "Chef Profile" section, where we will introduce you to the main chefs not only in Moscow but all over Russia.
This time we are talking with Alexander Bogdanov. Over the last decade, he has interned and completed his training in major restaurants in Europe, but in 2020 he took over the position of brand chef for Helvetia Hotel and the Cafe Claret and Marius projects. In St. Petersburg it is simply called "new talent", and if a new set appears on the menu, tables are booked in advance.
Before you go Google what else the chef is known for, we recommend studying his biography in our material. Let's get started, shall we?

Alexander Bogdanov.

35 years.

Hotel Helvetia, Cafe Claret and Marius restaurants.

From children's cooking practices and experiences in their grandmother's kitchen in Belarus. From the age of three, little me baked pies with my grandmother and learned to cook, and at ten I began experimenting on my own. For example, I boiled condensed milk until the can burst, and then spent the entire evening cleaning the kitchen.

Fish. And this is a paradox – I was born in the Far East, but at the same time I do not eat any fish or seafood. And I absolutely love baking them. Approximately 70% of the menu in my restaurant consists of fish and seafood.

The most delicious cuisine is the one where there are no restrictions and where two or even three cuisines of the world are brought together at the same time.

Actually there is none.

I don't have a single favorite food in the world, but I have a favorite in every country. In Italy – tiramisu, which I brought with me and now serve at Cafe Claret in Ireland – fish and chips in London – shepherd's pie with marrow in a pub in a small village.

When we approached an intern and forced him to cook pasta to feed the staff.

The potatoes my father cooks are fried in a cast iron pan until they thicken. It is definitely fried crispy.

That this job is about standing in the kitchen and calling the shots. But actually you work like Papa Carlo, most of the time you are much more than a cook.

Herring and mackerel are a personal antipathy to these products.

My favorite part of my job is the uncertainty, communication with many different people, lack of strategic planning, and the rapid change of events around me.

The most delicious are porcini mushrooms stewed in butter with the addition of parmesan mousse and white truffle paste with hazelnuts. But I prefer my most unusual dish – trout in wax.

My job is my childhood dream, and developing in my profession is my current dream.
Source: People Talk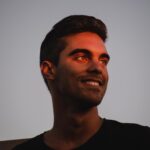 Errol Villanueva is an author and lifestyle journalist who writes for The Fashion Vibes. With a passion for exploring the latest trends in fashion, food, travel, and wellness, Errol's articles are a must-read for anyone interested in living a stylish and fulfilling life.