Thanks to Empire Magazine, we have a first photo of the director to share with you Roberto Eggers' highly anticipated remake of the classic 1922 vampire horror film Nosferatu. Eggers is the same director who brought us before The Witch, The lighthouseAND The Norman. He's a really talented director and Nosferatu has been a passion project of his since high school. I'm excited to see what he does with this!
Eggers said in a magazine interview: "It's a scary movie. It's a horror movie. It's a gothic horror film. And I think there hasn't been an old school gothic movie that's actually scary in a while. And I think most audiences will find that to be the case.
The image above offers a first look Lily Rose DeppEllen, and also includes the iconic dark claws of Count Orlok, played by Bill Skarsgård. Speaking about Skarsgård, Eggers said: "I will say that Bill has so transformed himself, I'm afraid that he might not get the credit that he deserves because he just… he's not there."
In this new retelling, Nosferatu tells the haunting Gothic story of obsession between a tormented young woman (Depp) in 19th-century Germany and the ancient Transylvanian vampire (Skarsgard) who haunts her, bringing with him unspeakable horror.
The film is also the protagonist Willem Dafoe (Spider-Man: No Way Home), Nicholas Hoult (Renfield), Emma Corrin (Deadpool 3), Aaron Taylor-Johnson (Kraven the Hunter), Simon McBurney (The evocation 2) AND Ralph Ineson (The Witch).
by Joey Paur
Source: Geek Tyrant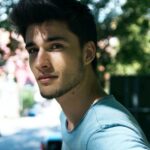 Lloyd Grunewald is an author at "The Fashion Vibes". He is a talented writer who focuses on bringing the latest entertainment-related news to his readers. With a deep understanding of the entertainment industry and a passion for writing, Lloyd delivers engaging articles that keep his readers informed and entertained.