Each with a great career in the world of cinema and entertainment, but on different paths and professional growths, one retired due to irreversible health problems, and another sometimes overshadowed by his controversial life. However, they once had the opportunity to work together; Bruce Willis and Ben Affleck starred together in the 1998 film "Armageddon"Directed by Michael Bay.
In the movie, Willis plays Harry Stamperan oil driller recruited by NASA to lead a mission to destroy an Earth-bound asteroid. Affleck plays AJ Frosta member of Stamper's drill team and the love interest of his daughter, played by Liv Tyler.
"Armageddon" is a science fiction action movie directed by Michael Bay and released in 1998. The plot revolves around a team of oil drillers who are recruited by NASA to travel through space and destroy a giant asteroid that is heading towards Earth and which could end life on planet Earth . The film also features performances by Billy Bob Thornton, Will Patton, Steve Buscemi, Owen Wilson and Michael Clarke Duncanamong others.
It was also a commercial success in motion pictures, grossing over $553 million worldwide. Despite receiving mixed reviews from critics, the film gained a huge following and became a classic of 90s action films.
You may be interested in reading: 3 funny Bruce Willis action comedies on HBO Max
Inspired by true events, Bruce Willis' 'Tears of the Sun' triumphs on Netflix
Rumors of tension on the set of 'Armageddon' have overshadowed the relationship between Bruce Willis and Ben Affleck
Bruce Willis and Ben Affleck's relationship during the taping of "Armageddon" in 1998 was reportedly mixed. At times, it was reported that the relationship between the two actors was strained due to creative differences on set.
In an interview after the film, Willis commented that he was unimpressed with the film's original script and worked with director Michael Bay to adapt the script and improve the story. According to some reports, Affleck and Bay disagreed with some of the changes made to the script, which could have contributed to some tension on the set.
However, despite the tense rumors, both Willis and Affleck spoke positively of their experience working on the film and praised the other actor's work. In an interview, Willis commented that Affleck was "very talented" and that he enjoyed working with him on the film.
For his part, Affleck has spoken positively of Willis on several occasions, praising his ability to embody tough and heroic characters on screen. Overall, it seems like the two actors were able to overcome any creative differences they might have had and work together effectively to make "Armageddon" a blockbuster.
You may be interested in reading: Bruce Willis Movies Critics Suggest You Stream
'Air', the biographical drama that deals with the history of Nike Jordan
Who was who in 'Armageddon', the only film they both recorded
In 1998's "Armageddon," Bruce Willis plays Harry Stamper, an expert oil driller on the Deepwater Horizon oil rig in the Gulf of Mexico. Harry is recruited by NASA to lead a drilling mission in space to destroy an Earth-bound asteroid that threatens to wipe out all life on the planet.
Harry is a tough and pragmatic character, with a sarcastic sense of humor and a commanding personality. He is very protective of his daughter Grace, played by Liv Tyler, and worries about her safety during the space mission. Throughout the film, Harry leads the drill team and risks his life to save the world from imminent destruction.
Bruce Willis' performance in 'Armageddon' received mostly positive reviews from critics, who praised his ability to portray a tough and heroic character. The film is considered one of Willis' most iconic films and helped solidify his reputation as one of Hollywood's top action stars.
Ben Affleck plays AJ Frost, a talented young oil driller who works for the company of Harry Stamper, played by Bruce Willis. AJ is the love interest of Harry's daughter Grace, played by Liv Tyler.
AJ is an intelligent and courageous character, but also a bit rebellious and sarcastic. He is selected by NASA to join the space drilling team to destroy the asteroid headed for Earth. During the mission, AJ finds himself in various dangers and risks his life to ensure that the mission is successful.
His performance was well received by critics and helped solidify his career as one of the most talented young actors in Hollywood at the time. The chemistry between Affleck and Liv Tyler in the film was also praised by critics and became one of the most memorable parts of the film.
Source: Nacion Flix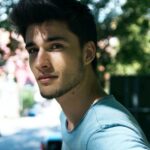 Lloyd Grunewald is an author at "The Fashion Vibes". He is a talented writer who focuses on bringing the latest entertainment-related news to his readers. With a deep understanding of the entertainment industry and a passion for writing, Lloyd delivers engaging articles that keep his readers informed and entertained.