When we talk about the manicures that are creating the biggest trend in 2023, we can't stop thinking about those "blush nails", which come straight from South Korea and have taken over all the network profiles. Nail art. It's a design that has purpose simulate facial blushing and that it has a very simple technique where a neutral nail polish color base is used first and later on a bit of rouge is applied which is sealed with a topcoat or glossy nail polish.
The blush nails are as pervasive as the ones we're famous for its simplicity and trendand one of the first celebrities Hispanic women have joined this trend Laura Scanes. The content creator has opted for a more pigmented design than the originals of South Korea, as these are intended to provide the utmost naturalness, but because of their virality, hundreds of ideas have sprung from them, such as that of Laura Escanes.
Laura Escanes' Korean manicure has no natural background pink color and refer to the simulation of blushing the cheeks, is of a fuchsia much darker than the base ones create the contrast Looking for this design? The way you chose influencers is the almond in long version which, as you will know if you are up to date with the current manicure trends, is the style that is most popular lately.
Laura chose this design to spend a few dream days with his new partnerthe Spanish singer Alvaro de Luna. The two went to enjoy the paradise beaches of Maldives away from the cameras and only showing us what they decide for themselves through their social networks, like this manicure blush nails from Laura which is in full swing.
In the third image of this gallery that Laura Escanes shared on Instagram with her nearly two million followers to show them her idyllic journey, you will appreciate a different perspective of your new manicure and better see the contrast between the base color and the blush.
Source: Marie Claire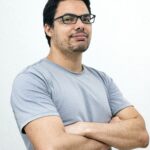 I'm Roger Gritton, and I've been writing for the The Fashion Vibes for over 5 years now. My specialty is beauty news; I'm passionate about covering the latest trends, products, and innovations in the industry. In my time there, I've become known as an authority on all things beauty-related.
I love discovering new experts to interview, researching up-and-coming ingredients and techniques that are making their way onto our beauty shelves and highlighting people who are making a difference in the world of cosmetics. My work has appeared not only on The Fashion Vibes, but also several other publications including the New York Times Magazine, Allure Magazine and Refinery29.