AMC has released a new teaser trailer for The Walking Dead: Those Who Livewhich is the next spin-off series that will continue the story of Rick Grimes (Andrea Lincoln) and Michonne (Danai Gurira) from the original series. It was also announced that the series will premiere on February 25, 2024.
There are many fans who are looking forward to watching this series. The Daryl Dixon spin-off series is actually really good and has received praise from fans, so there's a nice change in that this Rick and Michonne series will be worth watching as well.
The Walking Dead: Those Who Live presents "an epic love story of two characters changed by a changed world. Kept apart by distance. From an unstoppable power. From the ghosts of who they were. Rick and Michonne are thrust into another world, built on a war against the dead… and, ultimately, a war against the living. Will they be able to find each other again and find who they were in a place and situation different from what they had ever known before? Are they enemies? Lovers? Casualties? Winners? Without each other, are they still alive – or will they discover that they too are The Walking Dead?"
Rick disappeared during season 9, in which he was presumed dead, while Gurira's character left during season 10. Both later made cameos in the 2022 season finale, prompting this spin-off.
Lincoln actually talks about Rick's absence from Walking Dead universe in the new promo, saying, "People say, 'Where did you go? Our ambition is to have answers." Gurira adds: "It's a really exciting story to tell. These two people are so powerful and together it's crazy. This is crazy love.
The series will be available to watch on both AMC and AMC+. You're excited?
by Joey Paur
Source: Geek Tyrant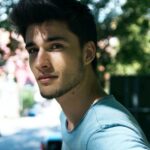 Lloyd Grunewald is an author at "The Fashion Vibes". He is a talented writer who focuses on bringing the latest entertainment-related news to his readers. With a deep understanding of the entertainment industry and a passion for writing, Lloyd delivers engaging articles that keep his readers informed and entertained.