Here's a new photo from Lucasfilm's upcoming film Star Wars: Ahsoka series that features a new mysterious and sinister-looking Inquisitor character.
Inquisitors were introduced Star Wars: Rebels and are Jedi hunters, who are tracking down and killing any surviving Jedi who managed to escape Order 66. They appeared in the video game Jedi: Fallen Order as well as the Obi-Wan Kenobi series, where they made their live-action debut.
The Inquisitors are an elite team of former Jedi who are drawn to the Dark Side for the most part, they were only explored between Star Wars: Revenge of the Sith and Star Wars: A New Hope. But now one will appear in the Ahsoka series, set after the events of Return of the Jedi, which is a time when there shouldn't be any more.
So, it's interesting to see that at least one survived and wields a double-ended red lightsaber. This is definitely one of Darth Vader's personal Jedi assassins and it will be interesting to see who is behind the mask.
The series is set after the fall of the Empire, Ahsoka "follows former Jedi Knight Ahsoka Tano (Rosario Dawson) while investigating an emerging threat to a vulnerable galaxy.
Ahsoka and Sabine search for Grand Admiral Thrawn in hopes that he will lead them to find the lost Ezra Bridger. Mary Elizabeth Winstead he's also set to star in the series and will play Hera Syndulla, and the droid, Chopper, also returns.
Also, we have Hayden Christensen as Anakin Skywalker, Ivanna Sakhno, Eman Esfandi like Ezra, Ray Stevenson like Baylon, Ivanna Sakhno as Shin Hati and Lars Mikkelsen as Grand Admiral Thrawn. The limited series is written by Dave Filoni which produces executive along with Jon Favreau AND Kathleen Kennedy.
The series will debut exclusively on Disney+ in August 2023.
by Joey Paur
Source: Geek Tyrant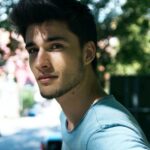 Lloyd Grunewald is an author at "The Fashion Vibes". He is a talented writer who focuses on bringing the latest entertainment-related news to his readers. With a deep understanding of the entertainment industry and a passion for writing, Lloyd delivers engaging articles that keep his readers informed and entertained.